Thomas & Betts Earthing Materials

Earthing Introduction


An effective earthing system is a fundamental requirement of any modern structure or system for operational and/or safety reasons. Without such a system, the safety of a structure, the equipment contained within it and its occupants are compromised.
Earthing systems typically fall into (but are not limited to) one of the following categories:
Power generation, transmission and distribution

Lightning protection

Control of undersirable static electricity

Telecommunications
CLICK HERE to download a schematic illustrating the key elements of an effective earth system.
---
Earth electrode materials
Quality earth rods are commonly made from either solid copper, stainless steel or copperbonded steel.
Furse can supply all three types, but the copperbonded steel cored rod is by far the most popular, due to its combination of strength, corrosion resistance, and comparatively low cost.
Solid copper and stainless steel rods offer a very high level of corrosion resistance at the expense of lower strength and higher cost.
Diameter of rod
One common misconception is that the diameter of the rod has a drastic effect on lowering earth resistance. This is not true! As the graph shows, you only lower the resistance value by 9.5 per cent by doubling the diameter of the rod (which means increasing the weight and the cost of the rod by approximately 400 per cent!)
Thus the rationale is: Use the most economical rod that soil conditions will allow you to drive. This is one of the ways to ensure that you don't waste money on over-dimensioned rods.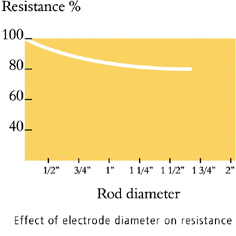 Thread & shank diameters
Confusion often arises between thread and shank diameters for threaded rods.
The thread rolling process, used by quality rod manufacturers, raises the surface of the rod so that thread diameter (B) is greater than shank diameter (A) (see drawing).
All threads are Unified National Coarse (UNC-2A).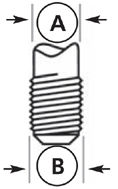 ---
Threaded & Unthreaded Copperbond Earth Rods


Furse copperbond earth rods probably offer to the installer the best and most economical earth rods available. They are made by molecularly bonding 99.9% pure electrolytic copper onto a low carbon steel core.

Furse rods are not of the sheathed type. They are highly resistant to corrosion, and because the steel used has a very high tensile strength, they can be driven by power hammers to great depths.

The counter-bored couplings are made from high copper content alloy, commercial brass is not used. This again ensures excellent corrosion resistance and high strength.

Copper thickness minimum 250 microns.

Connections to the rods can be by mechanical clamps, compression or by Furse's own "FurseWELD" exothermic welding system.

CLICK HERE to download Copperbond Earth Rods datasheet
---
Solid Copper Earth Rods


Furse solid copper earth rods offer greater resistance to corrosion. They are ideally used in applications where soil conditions are very aggressive, such as soils with high salt content.

Connections to the rods can be by mechanical clamps, compression or by Furse's own "FurseWELD" exothermic welding system.

CLICK HERE to download Solid Copper Earth Rods datasheet

---
Stainless Steel Earth Rods


Stainless steel rods are used to overcome many of the problems caused by galvanic corrosion which can take place between dissimilar metals buried in close proximity.

Furse stainless steel earth rods are highly resistant to corrosion.

Connections to the rods can be by mechanical clamps, compression or by Furse's own "FurseWELD" exothermic welding system.

CLICK HERE to download Stainless Steel Earth Rods datasheet


---

Earth Plates & Seals

CLICK HERE to download Earth Rod Seal leaflet

CLICK HERE to download Earth Plates & Earth Rod Seals datasheet

Earth Inspection Pits

CLICK HERE earth pits datasheet


Earth Rod Clamps

CLICK HERE to download Earth Rod Clamps datasheet

Fixings, Bonds & Clamps

CLICK HERE to download Fixings, Bonds and Clamps datasheet

NEW Standing Seam Roof Fixing

Rebar Connecting Clips

Earth Points

Earth Bar & Disconnection Links

Earth Boss & Insulators

Earth Electrode Backfills

Earth Rod Hammer

Hammer Rig

Earth Resistance Testers
---
Static Earthing Kits

Medium duty stainless steel earthing clamps



Medium duty stainless earthing clamp for earthing buckets, small drums, containers and plant equipment etc. Clamp features twin tungsten carbide teeth for effective penetration of paint and contamination.

Supplied complete with chemically resistant Cen-Sta 3m Spiral Cable and 10mm ring terminal.





Heavy duty stainless steel earthing clamp



Heavy duty stainless earthing clamp for earthing 205 litre drums, IBCs, production vessels and road tankers etc. Clamp features twin tungsten carbide teeth for effective penetration of paint and contamination.

Supplied complete with chemically resistant Cen-Sta 5m Spiral Cable and 10mm ring terminal.





Medium duty stainless steel earthing clamp & reel



Medium duty stainless earthing clamp for earthing buckets, small drums, containers and plant equipment etc. Clamp features twin tungsten carbide teeth for effective penetration of paint and contamination.

Supplied complete with 6.1m retracting cable reel.






Heavy duty stainless steel earthing clamp & reel



Heavy duty stainless earthing clamp for earthing 205 litre drums, IBC's, production vessels and road tankers. Clamp features twin tungsten carbide teeth for effective penetration of paint and contamination.

Supplied complete with 15.2m retracting cable reel.







CLICK HERE to download Static Earthing Kits datasheet