Home
Company Profile
Products & Services
Suppliers
- Surewire Pre-Wired Junction Box
Contact

Etech Components
e: sales@etech
t: +44(0)1744 762 929
f: +44(0)1744 762 930
Navigate to: Surewire Home | Surewire SW7ML-MF 7 Way Pre-Wired Junction Box

Surewire SW7ML-MF 7 way Pre-wired Multi Light and Switch Junction Box (Sure Wire)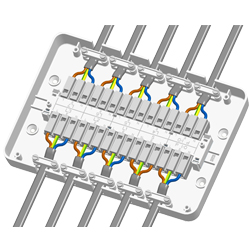 This Surewire SW7ML-MF Pre-wired Maintenance free Light and Switch Junction Box has facility for a feed from the consumer unit or another Surewire junction box.

Surewire SW7ML-MF 2 power IN/OUT connections, 1 switch connection and 7 light connections. This Surewire Junction Box Unit is used for downlights where a swithc is required. They can be used in conjunction with other Surewire Junction Boxes or a replacement for current lighting systems. These Surewire Junction Box Units can be used to replace a loop-in ceiling rose for downlights.

Apart from the mains feed to this Surewire Junction Box unit it has 1 switch line & 7 sets of light fitting outputs up to 16amp 250volt.

This Surewire Junction Box unit has been designed for the addition of extra lighting including extensions, conservatories, garages, lofts and outdoor lighting etc. Size 191 x 135 x 22mm

See the Youtube video below:


Main Benefits
Easy to wire and maintain
Less complicated saving time and effort
Reduces the number of terminal connections
All connections are cut and stripped to the same length
Modular and integrates into any system
All cables are strain relieved
Can be used in domestic, commercial and industrial premises
Rated to 16A 250V
Approved to BS EN 60670-22

Other Benefits
Surewire is very simple to wire with the circuit pre-determined and clearly marked on the box.
Each wire has its own terminal connection which is best practice.
Any maintenance or adding additional light switches and light connections is very simple.
The lids have recessed areas where stickers or tape can be fixed to identify the light location.
Screws in the lid are retainable so you donít lose them when the lid is removed.
The box has cut out tabs so no connection is left open if itís not being used.
Securing holes in the box base are spaced so it can be secured easily to a standard 3Ē beam.
If a light connection is no longer required, simply remove the connection. No rewiring required.

How to install
One cable goes from the consumer unit or power cable from another Surewire junction box to the junction box P I/O connection, one cable goes from the junction box S connection to the switch and cables go from the L connections to the required number of downlights. If extra downlights are required a Surewire lighting spur junction box can be added to one of the L connections to give extra power outputs.

To integrate Surewire into current systems, isolate the power, locate the lighting radial power cable, cut the cable and wire to both ends of the Surewire junction box at the P I/O connections. This reinstates the radial power and gives a switch connection and multiple light connections.

To replace a loop-in ceiling rose with downlights, isolate the power and wire the switch and power cables from the loop-in ceiling rose to the Surewire junction box. This gives a number of light connections for downlights.

Featured in 'Professional Electrician' magazine and online click here.